YOUTH MINISTRY IS STUDENT MINISTRY

I created an ARK OF THE COVENANT ORIGINAL ART DESIGN with the full quote of the TEN COMMANDMENTS COVENANT of EXODUS 20 and quotes from DEUTERONOMY 5 (kjv), without pictures.

The TEN COMMANDMENTS and quotes, etc. is surrounded by a representation of the ARK OF THE COVENANT with two CHERUBIM on the MERCY SEAT and placed it in a heavy duty page protector (3 ml) for 3 ring notebooks so students can put it in their notebooks as a daily reminder and focus, as a witness and as a peaceful protest against taking God out of schools.

You can now share them or post them in schools. The Supreme Court in January 2023 removed 7000 blocks to sharing your religion in schools and other places with some funding from the government. (The Lemon test prohibited 7000 ways. This was the Coach Kennedy lawsuit that got the victory.)

**** FREE OFFER: You can copy this art piece and put in your own page protector or post on your doors, etc.

We must fight peacefully for A RIGHTEOUS NATION as "ONE NATION UNDER GOD" to PROTECT OUR NATION from violence and to prove "IN GOD WE TRUST."

Our Savior is and was "obedient unto death" to show us the way to worship our Heavenly Father, our Creator, in spirit and truth.

Our God, Savior and Creator, is His word and His word is God. (John 1:1-14)

He shows us HIS wisdom to live by, so we do not get in bondage and pollute our air, land, water and food leading to disease and extinction OR cause divisions.

"SEEK FIRST TO ESTABLISH THE KINGDOM OF GOD AND HIS RIGHTEOUSNESS AND ALL ELSE WILL BE ADDED TO YOU." Matthew 6:33



FREE to copy. (Picture Below)
I give you permission to copy and duplicate these and distribute any way you want, in full or part, physically or through social media.

For original copies by Marie Devine, (see testimony tab), order direct, DONATIONS only, I am one, not a company.
Available as inserts in 3ml page protectors,
or just the inserts,
or Laminated in full size or about 5x5.

(Quantities available are limited) Please make a 3x5 address card to tape to the 9x13 envelope I must send.
You may order gifts to be sent to others at the same time, just make another address card for them.

Marie Devine Divine-Way,
19405 Platte County Line Road,
Smithville, MO 64089-8798
TRUE TEN COMMANDMENTS ORIGINAL ART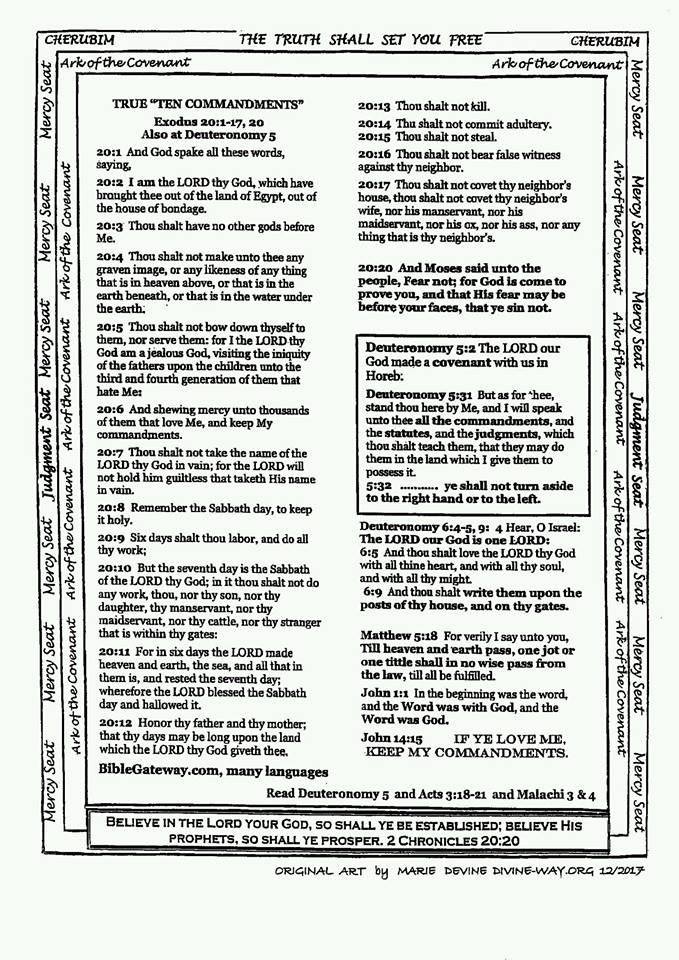 SHARE, FOR THE WORLD NEEDS THEM
Do not be afraid of opposition; it is free advertising to spread your message.
POWERFUL PROPHECIES ARE IN MY LIFE
WHOM OUR GOD ANOINTS, HE EQUIPS
Freedom of Religion is freedom to do what our Creator has caused to be written. If we do NOT follow His word, we are not His. IF we do not know Him as THE WORD OF GOD, we do not know Him. He was obedient unto death; and he said, Follow me.

Revelation 19:11-15 (:13 ..And His name was called THE WORD OF GOD.)
Rejoice; because the Ten Commandments and Bible were taken out of school and we can to bring them back. STUDENTS have great power to do that. Follow God's word AS WRITTEN, because these are days of great deception.
Marie Kalivas Devine, 19405 Platte County Line Road, Smithville, MO 64089-8798 USA

816-210-3638 (cell) - mariedevine.divineway@gmail.com
https://www.divine-way.com - https://www.divine-way.org




Linkedin.com/in/marie-devine-divine-way